Cute cell phone cases, coffee mugs, fun aprons, unique invitations, and postcards from sites around the world -there's a variety of products offered. However, no matter how fun the design might be, each item helps support the work to save orangutans.

For assistance with personalized designs, you can contact the artist through her Zazzle gallery at
Rebecca_Reeder*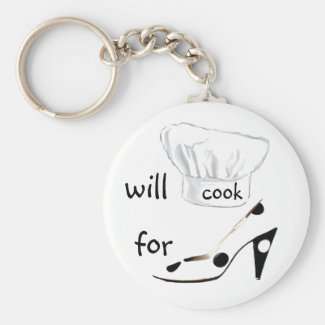 Will Cook for Shoes Key Chain
by
Rebecca_Reeder
Design your own
keychain or choose from many fun products
online at zazzle.com
Why not save an acre of rainforest for the price of a few fancy coffee drinks? You can help make an immediate difference on our planet and save endangered

wildlife !
♥
You can make easy donations with Paypal or a credit card at
http://www.orangutan.org/how-to-help/donate-to-orangutans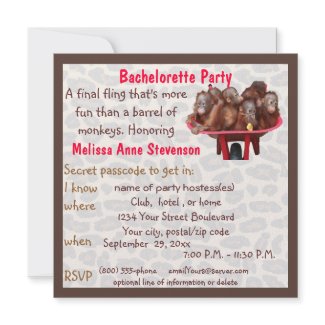 Monkey Business Bachelorette Party Personalized Invitation
by
Rebecca_Reeder

And here is a great bridal starfish design from one of my friends who creates some pretty wedding invitations. I thank her for her past support of the orangutan orphans!
All of these orangutans at OFI are orphans or rescues from harmful or illegal situations. The care center in Kalimantan on the island of Borneo was featured in the 2011 3D IMAX movie "Born To Be Wild".

Orangutans are on the endangered list, so your support can truly make a difference

Why not adopt an orphan as a special gift?

The "adopt" link is under the "get involved" pull down menu at

www.orangutan.org
Your purchases of my designs support wildlife conservation.
Through my gallery on Zazzle, I have been able to meet requests for a wider variety of products with unlimited customization choices and the convenience of credit cards as well as Paypal. Please see all of my products at

Rain forest habitat is rapidly disappearing. For people who really want to make a difference, please consider a donation to help OFI buy more land to be set aside as protected habitat, as is the case with Camp Leakey in the Tanjung Puting National Park on the island of Borneo. This is one of only two islands on our entire planet where the gentle orangutans exists in the wild. If you'd like to help but don't care for orangutan designs, some whimsical "fashionista" items also are part of my fundraising efforts.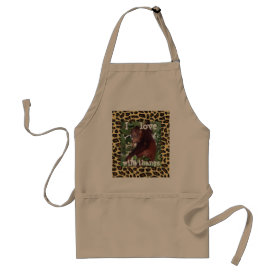 I Love Jungle Wildlife apron by Rebecca_Reeder



The top soil in the rain forest is actually quite thin, and once the natural vegetation is removed (for logging or in the process of clearing for palm oil plantations), the lush forest becomes a hot, sandy desert - - a cement pit, like the one below.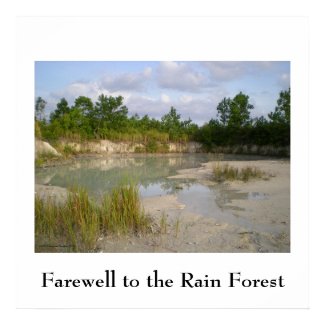 Why not
make a difference in the world every time you are in the grocery store!
Check product labels on processed, packaged foods (a lot of junk food) -- cookies, cold cereals, crackers, so-called "health and diet bars," calcium chews marketed for women, candies, and microwave popcorn, -- and buy brands that do not contain palm oil. In recent months, governments and companies have been trying to work together to find ways to grow palm oil in a sustainable manner, and we applaud these conservation efforts.
There are so many little ones being cared for in all age-group sections of the Orangutan Foundation Care Center.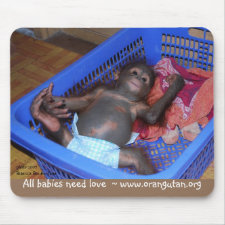 The artist donates 100% of her profits to support wildlife rescue work. You can also foster an orphan through Orangutan Foundation International! Go to www.orangutan.org